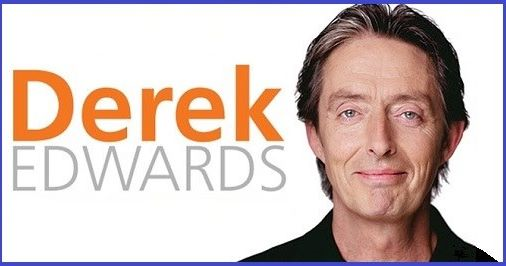 WACKY WEDNESDAY WITH DEREK EDWARDS
Be listening to Colin this and every Wednesday all month long for your chance to win tickets to see Derek Edwards at Imperial Theatre on November 4th.  When Colin hits the cue to call, be the correct caller and you win tickets to see the funny man himself!
Tickets On Sale Now and can be purchased at Imperial's box office or on line.
DEREK EDWARDS – " So Here's The Thing…"  
COMING TO SELECT ATLANTIC CANADIAN THEATRES
"So Here's the Thing …"  – A  breath of fresh air, finely honed and relentlessly funny! Take a break from the world and settle in for a seamless glide over life's troubled waters. Like the canoeist seated deftly atop his life jacket, with whiskey and pot cookies sealed in airtight containers, Derek Edwards has left little to chance in this polished comedic adventure.
They say, "Brevity is the soul of wit." And like in a Hollywood movie when the fleeing hero has to jump off a cliff into a waterfall, and the bad guys say, "Nobody could have survived THAT," then they cut back to a single hand reaching out of the rushing water, finding purchase on a floating log. Derek is like that Sodden Log! An island of stability amidst the frenzy. An oft saturated and not entirely stable respite from life's turmoil.
From Vegas to St. John's, this Just For Laughs veteran is universally considered to be among the comic elite. Certainly his peers think so, as evidenced by the fact that he's a four-time nominee, and winner of Best Standup Comic – Canadian Comedy Awards, as well as a multiple Gemini nominee for Best Performance in a Comedy. As Rick Mercer says, "Everyone knows Derek is the funniest man in Canada."
Clearly the critics agree: "5 STARS – the funniest man on earth" – Winnipeg Free Press; "4 STARS – the crowd howled" – Victoria Times Colonist; "still the funniest man in Canada" – Toronto Sun; "Edwards reigns as the King of Canadian comedy" – Charlottetown Guardian; "Derek Edwards is hysterical" – Calgary Sun; "Edwards takes stand-up to next stage" – Georgia Straight; "the epitome of timing & storytelling" – Halifax Chronicle Herald; "the comedian's comedian" – London Free Press.
"So Here's the Thing …" – Derek Edwards' new 90-minute stand-up comedy show, …a richly textured and enthralling 'cut above,' delivered with pace and authority by the consummate Canadian Comedian.
Reserved seating tickets for Derek Edwards –"So Here's the Thing …" are $47.00- $49.00(depending on local facility fees;  tax incl., handling charges may apply), and are available from the box offices listed below. Showtime is 7:30pm. For more info, pics & comedy clips, visit www.shantero.com