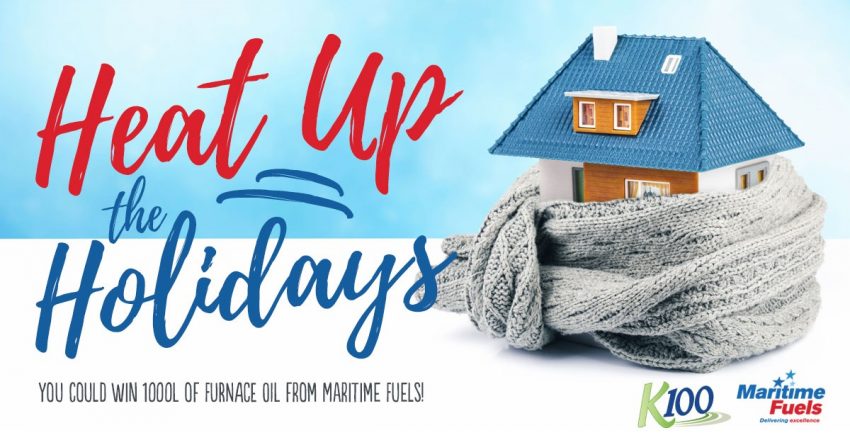 HEAT UP THE HOLIDAYS
HEAT UP THE HOLIDAYS WITH MARITIME FUELS AND ESSO
From December 3rd to 21st, be listening to Colin's Morning Show at 7:20am to win up to 1000 litres of fuel!
Be the correct caller through to 658-5000 and then choose a truck numbered from 1-10. Colin then reveals the amount of fuel and you can keep it…or you can trade it!  But remember…if you trade it you can't go back!
Join in the fun and listen in from December 1-21st!
*Heat up the Holidays with Maritime Fuels and Esso, on K-100!!
Delivering Excellence!
*Terms and Conditions of Heat up the Holidays
Entries have no cash value.
Entries are non-transferable.
Deliveries will only be made to tanks that comply with the most recent edition of the CSA B-139 Oil Burner Installation Code. Maritime Fuels reserves the right to refuse to deliver to a tank that they deem as an unsafe fill. All tank inspections will be preformed at no charge for the customer.
Credits for furnace oil will be posted to the customer's account at the prevailing posted retail price on the date the entry was redeemed.
No Voucher can be redeemed after 11:59 PM April 30th, 2019.
Businesses (Incorporations, LLP's, partnerships, sole proprietorships etc.) are excluded from participating in the contest.
This promotion cannot be combined with any current offers or future promotions and offers except the Comfy Cozy Contest and Christmas Gift Giveaway.
Employees and their immediate families living in their households are not eligible.
Some geographical restrictions will apply. Maritime Fuels will be the sole determiner in where the deliveries can and can not take place.