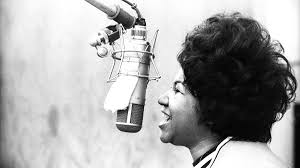 The "Queen Of Soul"
They say that lightening never strikes twice.
Most people born before 1970 will  remember August 16th, 41 years ago.  It was the day the "King of Rock and Roll" Elvis Presley died in Memphis, Tennessee. The death of Elvis Presley Presley sent shock waves throughout the entire music world.
This morning at 9:50am ET, the "Queen of Soul" Aretha Franklin passed away at age 76 of pancreatic cancer.
The Music world has lost an iconic diva today.  Aretha Franklin was born in Memphis TN, on March 25th 1942, and evolved not only as the definitive female soul singer of the 1960's and 70's but also as one of the most influential and important voices in pop music history.  Franklin began her music career in Detroit singing gospel at New Bethel Baptist Church, under the ministry of her father. She moved into the Motown scene at age 18 to cut her teeth in R&B Soul and Pop under Columbia Records, before signing with Atlantic Records, where she would release anthems such as R.E.S.P.E.C.T, (You Make Me Feel Like A) Natural Woman, Spanish Harlem, Think, on her way to commercial and artistic success. This success earned Franklin the title "Queen of Soul" before the 1960's came to an end.
Aretha Franklin's career spanned almost 6 decades, 58 years to be exact. Franklin recorded a total of 112 charted singles on Billboard including 77 top 100 hits and 17 top 10 hits on the pop charts. The "Queen of Soul" also logged 100 R&B songs on the charts including 20 number 1 singles on the R&B Charts. Add to that 18 Grammy Awards, over 75 million records sold, the Rock & Roll Hall of Fame, The UK Music Hall of Fame and the GMA Gospel Music Hall of Fame. Franklin received a star on the Hollywood Walk Of Fame in 1979, A Grammy Legend Award in 1991, Kennedy Center Honours in 1994, Grammy Lifetime Achievement Award in 1994, and the Music Cares Award in 2008.
Perhaps President Barrack Obama said it best about Aretha Franklin, "American history wells up when Aretha sings", president Obama explained his emotional response to her performance of "A Natural Woman" at the 2015 Kennedy Center Honors. "Nobody embodies more fully the connection between the African-American spiritual, the blues, R&B, rock and roll–the way that hardship and sorrow were transformed into something full of beauty and vitality and hope."
Most people have a favorite song from a particular artist…there are so many to choose from Aretha Franklin. It is hard not to name RESPECT or Natural Woman but the one that comes to mind most readily for me is "I Knew You Were Waiting" a duet with another fallen star, George Michael.
They may say that 'Lightening Never Strikes Twice" but it seems as though Aug 16th is a bad day for music history. When you lose a "King of Rock and Roll" and a "Queen Of Soul" on the same day even if they are separated by years it diminishes the day.
Aretha Franklin will be dearly missed and her legacy will endure as one of mad "R.E.S.P.E.C.T"