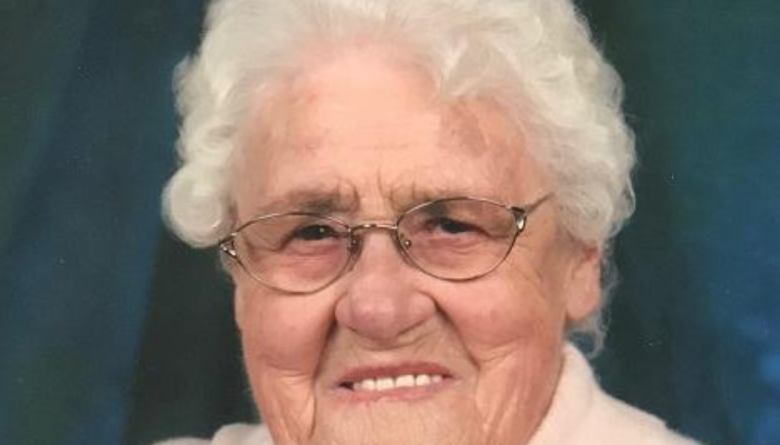 Thanks "Ma", For Being So Great! You'll Be Missed
My name is Gwendolyn (Vivian) Tobin and I loved pizza. The truth is I enjoyed eating just about everything: lobsters, ice cream, yogurt-covered pretzels, you name it. An appetite is one thing I was never short of.
I also loved to read and was a prize-winning pie maker and an expert at frying and baking dough. Most of you know me as "mum", "ma", "grannie", "nan", "Gwen", "Mrs. Tobin" or more simply "Gwen dear", as in "How are you, Gwen dear?"
I passed away on Monday, March 11, 2019, at the Cape Breton Regional Hospital. I was at peace thanks to the great staff of nurses, volunteers and doctors in Section 4B. It seems like yesterday, but
I was born in Alder Point on May 18, 1916.
I was the daughter of the late George and Maude (Plant) Stubbert. I lost my mother when was 11 years old, and my grandmother a few years later, and since that time have been looking after myself (until recently of course, but I will get to that).
One of the hardest things I ever had to do was outlive 3 of my children: Madonna, Allard and Janet (I am also predeceased by my husband William Tobin, grandson, Danny and half-brother Russell Fraser). I figured at the age of 102, it was time to join them. I am survived by my two daughters, Cathy MacIntosh and Merle (Ray) Boutilier; my two sons, William (Eileen) and George (Ida); my grandchildren, Donna, Steven, Brenda, Brian, Brittany; and three great-grandchildren. If you know me though, the last thing I want you to do is feel sorry for me. There is no place for that. The only thing stronger than my appetite for food was my appetite for laughter. This included an ability to laugh at myself. I lived a wonderful life surrounded by warmth, love and community.
I was a member of St. Joseph Church, Bras d'Or, the CWL for 65 years and the Millville Ladies Auxiliary. I was far better off than most and wanted for nothing. The only time you may have heard me complain was about the weather (or if push came to shove, that people didn't visit as much anymore). My only regret in life is not having learned to drive. I do want to take the time to thank Doctor MacDonald and Linda who helped me get to the tender age of nearly 103. I also want to thank Brenda, Terra and Krista from Homemakers. I called them the "babysitters". They came to keep me company every so often, so Cathy could carry on her life in some form (and go to church and get me the bulletin — I will get to that).
A very special thank you to Marlene and Danielle from the Victorian Order of Nurses is needed. You brightened up my life every single day. I know you were there to change my socks and take my blood pressure, but truth be told I probably could have changed the socks myself (don't tell the VON). I remember our laughs and moments more than anything. You were family.
Last, but not certainly not least, Cathy. Where do I begin? You were my daughter, caretaker, cook, cleaner, chauffeur and so much more. You allowed me to stay in my home until the very end. You took me for Sunday drives and over the past 15 years or more became my best friend. You gave me dignity. If you want to say good-bye, a Funeral Mass will be celebrated on Saturday, March 16, at 10:30 a.m. at St. Joseph Church, Bras d'Or with Rev. Peter McLeod officiating, with a small lunch served in the Hall after. Burial will take place at a later date in St. Joseph Cemetery, Bras d'Or.
I will miss the monthly visits from Father Peter but probably not as much as the time I spent reading and re-reading the weekly church bulletin (I also loved to read the Cape Breton Post; thank you Archie). Funeral arrangements are under the care and direction of W.J. Dooley Funeral Home, 107 Pleasant Street, North Sydney. Memorial donations may be made to St. Joseph's Church Hall Fund. Online condolences may be sent to the family at www.wjdooley.com.