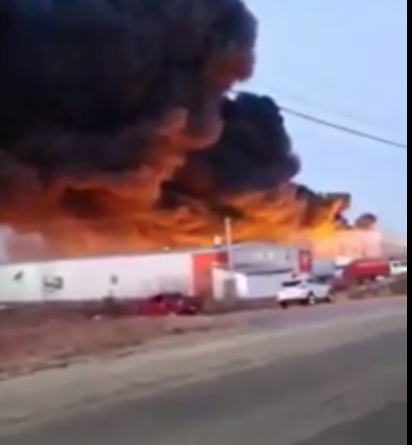 Minto Industrial Fire Dec 2019
Early Saturday morning December 21, 2019. A fire broke out in Minto's Industrial Park.
Minto Mayor Erica Barnett posted this:
Update on TRACC Fire, our crews along with mutual aid have been hard at work since late last night battling a fire at the Industrial Park. Rest assured that all safety protocols are in place, emergency measures are on site, along with multiple fire departments, Department of Transportation, RCMP, and village staff. Please respect the wishes of the emergency officials and stay away from the area near and around highway 10 near the Industrial park road. Residents who are experiencing any issues due to smoke should find alternate accommodations.

The village office will remain open for those who need a place to go. We have received a tremendous amount of offers of support, food for the emergency responders can be dropped off at the Minto Fire Department on Main street.

On behalf of the whole village and council, we wish to thank the first responders for coming to our aid in this time of need, if you have questions or concerns please contact the village office at 327-3383. We will continue to keep you updated as the situation progresses.
It is reported that 30 fire departments are on scene, and they all need to be fed. There is a call food and drinks for the multiple Departments fighting the fire, please take it to the Minto Fire Department, Village Staff are there.
NB-EMO:
Crews are on the scene of an industrial fire in Minto. People in the Minto and Chipman areas are advised to avoid the smoke. Turn off air exchangers, stay indoors and avoid outdoor activities. Monitor for updates and follow the advice of local authorities.
Shawn Fasquel sent these 2 videos.
Holly Langer video.