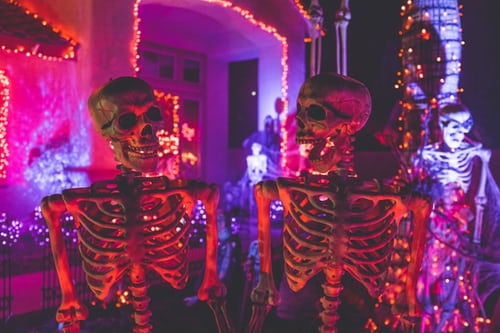 Indoor Halloween For The Young Gobblins
The ghouls at Environment Canada are forecasting a very wet Halloween, but the good news is that there are some places with INDOOR Halloween!
Here's where you can take your kids trick or treating Halloween night 2019 while it rains!
McAllister Place will have trick or treating at their stores between 5:30 and 7, while candy lasts, children MUST be accompanied by an adult.
The River Valley Community Center in Grand Bay is having a 'Rink or Treat' between 6-8. If you want it to happen, thye need you to bring treats and help set up, set up time is 4:30.
Carleton Curling Club, Rodney Street lower west, is hosting an Indoor Trick or Treat Party between 5 & 7.  Bring your TRICK & TREATERS and your CANDY (that you have already purchased) to the club!
Hampton United Church on Robb Court is having an indoor trick or treat between 6p-8p. In order to make this successful they need people to bring treats and decorations. Somebody will be there at 5 to set up and get organized. If you are able to help out or want to drop off treats please do!
The KBM Outing Association is hosting INDOOR TRICK-OR-TREATING. Bring your CANDY (that you have already purchased) to the KBM! Your kids can circulate indoors, out of the rain and still get to TRICK-OR-TREAT! Halloween night from 6 pm to 7:30pm – Anyone from Martinon to South Bay welcome. Children must have an Adult with them.
The South End Community Center will be feeding the kids a healthy meal before they go out trick or treating. Parents from the Level Up after school program are welcome to join them early at 4 pm and eat with their kids. They will open their doors to the public at 5pm, and will be serving food until 6pm, then they'll hand out candy from 5pm to 7pm.
Greenwich Recreation Association are having a Trunk or treat and Haunted Hub. Trunk or Treat is moving inside, tables and chairs are provided. Doors will be open by 3 for set up and trick or treating begins at 6. Little kid haunted house begins at 6:30 and full live action Haunted Hub to follow. There will be 3 people per 8 foot table. Please prepare for 80-90 kids
Lancaster Mall will have Trick or Treating 3:30p-4:30p
Saint David's United Church in Rothesay is having an indoor TRICK or TREATING, 5:30-6:30 Halloween night. "Bring your nut-free treats to share and you will be given a table to serve as your house (feel free to bring your jack o lanterns and other decorations if you wish)." Event will run until 6:30 or while treats last.
His Tabernacle on Rothesay Road across from K-Park is having a Trunk or Treat Halloween night from 6-7. Free hot chocolate, photo booth, free candy and more
Milford Community Center All are welcome to come pass their treats out at the centre. Doors open at 5 and will continue until 7 or when the candy runs dry.
RiverCross Mission, Main Street North, is moving their Trunk or Treat inside and all are welcome. It begins at 5 pm. There's treats and hot chocolate. Use the parking lot on the Metcalf side of the building and go in the doors under the "Main Street Baptist" sign.
True Life Church on the Vincent Road in Quispamsis will open their gym for Halloween between 5 & 8. They'll have tables in the gym and pass out treats. If you can help and work a table, and/or provide treats – please let them know or drop off your goods at the church this afternoon.
Any more indoor indoor Halloween fun because of the rain? Let me know and I'll add it to the list colin@k100.ca