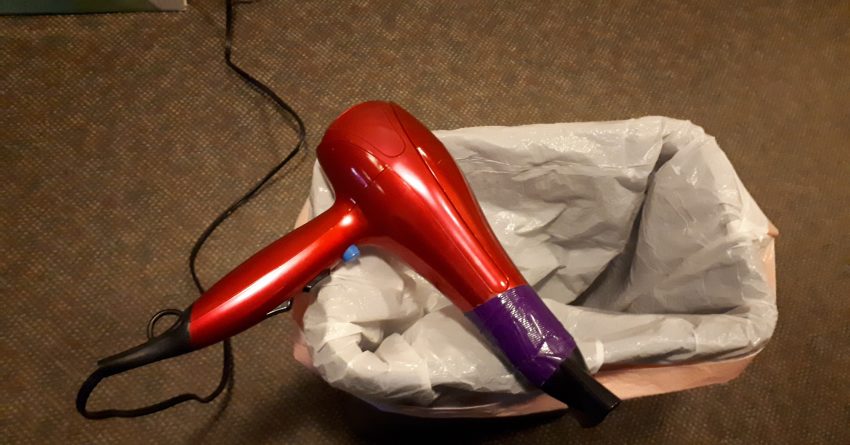 Goodbye Hair Dryer, Thanks For Your Service
Hair Dryer, formerly of the bathroom cupboard, made its last hairstyle and probably scared its last cat on March 13th 2019.
A brilliant gizmo, Hair Dryer drifted through its life span, first a box at WalMart and then under the bathroom sink, graduating to hanging off a metal Ikea bathroom shelf.
Hair Dyer loved to be turned on. High heat, cool air, slow speed … and not necessarily in that order. It hated wet hair and being dropped in the toilet, but it loved to to create the perfect updo. And you could be sure the attachment would stay on, because it was duct taped there.
Although a less than average life span, Hair Dryer did not live an average life. It traveled to Scotland where it was a big help in Colin & Marias wedding, you could say it was a hair raising experience. It laughed inappropriately at frozen hair and even pitched in when painted need to be dried faster.
Hair Dryer was a real ladies device, a hair slayer, and an outlaw, because it was shaped like a gun and you could pretend to use it, except it had a cord..
Hair Dryer is survived by its 2 owners, 2 cats and 1 curling iron.
There will be no viewing since its an inanimate object and probably nobody would show.
Since funeral services probably won't be allowed in any reputable house of worship, because, again, it is only a hair dryer… I am holding memorial service and celebration of life, just before I toss it into the garbage.
Everyone who remembers it is asked to celebrate Hair Dryers life in their own way; by turning on a hair dryer in its memory and not using it, just stand there as I am now, and turn it on.. Thank you hair dryer, you were there just about every morning.. and now when you get turned on, you sound like death. Enjoy the land fill…