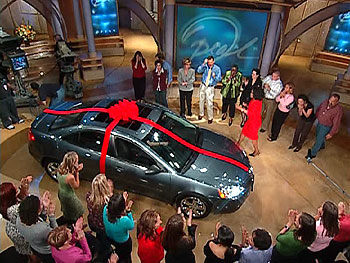 Everything Is Not As It Appears
Where were you on Sept 13th 2004?
Were you by chance one of the millions of people who watched what one media expert told reporters"one of the greatest promotional stunts in the history of television'? Everything is not as it appears.
On this day, Sept 13 2004,  Mega star & TV talk-show host Oprah Winfrey gives a brand-new Pontiac G-6 sedan, worth $28,500, to everyone in her studio audience: a total of 276 cars in all. The hype was in play from the beginning of the show. Oprah had  originally called 11 people on to the stage who desperately needed new cars. Sources said  that Oprah had told her producers to fill the crowd with people who "desperately needed" the cars, and when she announced the prize by jumping up and down, waving a giant keyring and yelling "Everybody gets a car! Everybody gets a car!, mayhem–crying, screaming, delirium, fainting–broke out all around her…for all the world to see.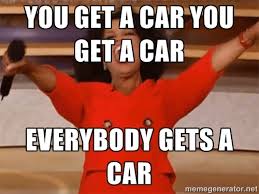 Unfortunately it did not come without some extra drama and scandal wasn't far behind. For starters, the gift wasn't really from Oprah but Pontiac. Pontiac had donated the cars, paying the hefty price tag out of its advertising budget, because the company hoped that that the giveaway would drum up some enthusiasm for its new G-6 line. It played out as a promotional gig in which, Winfrey herself took a tour of a Pontiac plant, plugging the hi tech satellite radios and fancy navigation systems. Pontiac also paid the state sales tax on each of the automobiles it donated. However, the new-car recipients were still left with a large bill for their supposedly free vehicles. Under US Regulations – "There ain't no free lunch" and federal & state income taxes added up to about $6,000 for most winners. Some people were forced to pay the taxes by taking out car loans; others traded their new Pontiacs for cheaper less luxurious models.  As one winner said, "It's not really a free car, it's more of a 75 percent-off car. Of course, that's still not such a bad deal."
Despite the negative turn it took for some there is little doubt the PR gimmick worked. Oprah's giveaways have earned some of the highest ratings in the program's history and set a precedent that many shows have followed since.
The bottom line is that not everything is as it appears…