Breaking Down Barriers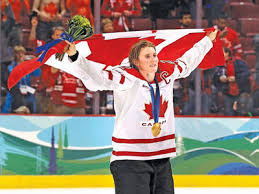 It is time to talk about Breaking Down Barriers…
Thursday August 23rd marked a significant milestone for gender equality. The Toronto Maple Leafs blew the lid off the glass ceiling in announcing that Hayley Wickenheiser, had been hired into a management role with the organization. Leafs General Manager, Kyle Dubas took time to carefully explain that Wickenhesier was not given the job in an effort to appease or as a token of gender diversity. Dubas went on to say that, Wickenheiser, arguably the greatest female hockey player of all time, was given the position based on her "undeniable competency."
"We are looking for the best people period," stated Dubas. It is difficult to argue with Dubas' logic in this statement. Hayley Wickenheiser's resume is over the top impressive. Wickenheiser is the most recognizable and accomplished female hockey player in the world. A five-time Olympic medalist and national team member since age 15. The first woman to play professionally (other than a goaltender) in a men's league. Wickenheiser's passion for sport is matched by her desire to give back to the community. She has worked with JumpStart, KidSport, Right to Play, Wickenheiser World Female Hockey Festival and dozens of organizations worldwide.
Originally from Shaunavon, Saskatchewan Wickenheiser is a  graduate of the University of Calgary, with a degree in kinesiology and currently enrolled in Medical School. Her numerous accolades include the Order of Canada, Canada's Walk of Fame and The Globe and Mail's "Power 50" influencers in sport. Pretty impressive! In 1998 Wickenheiser was invited by, Philadelphia Flyers GM Bobby Clarke, to attend the Flyers rookie camp and again in 1999. In an interview, while trying to put Wickenheiser's talent in perspective, Flyers coach Roger Neilson had this to say, "once they are out there with their helmets on, you wouldn't know the difference."
Hayley Wickenheiser is the right person for the job. She has been breaking barriers to entry down since she first appeared on the national stage at age 15. One of the most compelling attributes of her story is her constant state of humility. She is always quick to acknowledge those who helped pave the way for her success. She quietly goes about her business with an air of confidence that has been developed with experience. This experience helps to open doors, and Wickenheiser, has finally opened the door to an "old boys club."
While her resume and experience speak for themselves…it is also hats off to Leaf's President Brendan Shanahan and General Manager Kyle Dubas, for making this a reality.
Watch out boy's – there is a new kid in town…
Best of Luck to Leaf's Nation…and of course to Hayley Wickenheiser.
Another Inspiration message from Hayley… Talk about Breaking Down Barriers!