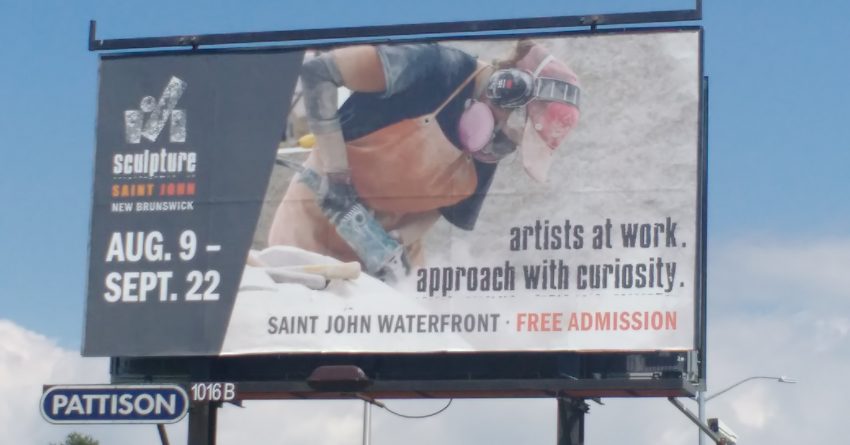 Artists at Work. Approach with Curiosity
The Billboard tells a story of who, what, when and where. It also mentions "Free Admission."
It is a catchy tag line; artists at work. approach with curiosity.
If you haven't caught us raving about this on Twitter or Facebook over the past two weeks, here's your chance to catch up on this brilliant arts and cultural event happening in Saint John right now through Sept 22nd. The New Brunswick International Sculpture Symposium presented by Sculpture Saint John is the 4th International Sculpture Symposium event, since its inception in 2012. Every two years, eight artists, from around the world gather to create their "Community Masterpieces" which are placed in various communities throughout New Brunswick. To date 22 sculptures have been completed with another eight sculptures to be completed when the Symposium wraps up on Sept 22nd. Over 100,000 visitors have taken an active role in participating in this world class Arts & Culture marvel.
"Invention," author Mary Shelley, wrote in contemplating how creativity works "does not consist in creating out of void, but out of chaos." The chaos of existing inspirations, properly comprehended and reconfigured into something new. It is what these artists do. It is interesting to discuss this with the artists. They are so engaging and willing to take the time to talk about their vision. Local artist, Jim Boyd who has been an integral part of all of the Sculpture Saint John events, said this about his sculpture entitled "Wind And Water" for Port Saint John; "The Bay of Fundy and the St. John River are cherished by many New Brunswicker's. Having grown up in Saint John, I feel a deep connection for this area. My sculpture "Wind and Water" is inspired by my memories and experiences in this special region of our province"
The sculpting process is evolutionary, yet appears it is a process mostly unconscious, the product of which the creative breakthrough we call originality, that cannot be willed. It arrives unbidden, with an abruptness that often startles the very mind to which it alights, a sort of Aha! moment of sudden illumination where everything just comes together. This moment, George Wallas, described as "the culmination of a successful train of association, which may have lasted for an appreciable time, and which has probably been preceded by a series of tentative and unsuccessful trains." In short – you have to be there – to be there. In visiting the site early, you see a work space, you feel a vision and then each time you go back you watch the process unfold. That process is exactly what Michelangelo found in the end of his work. When asked how he could create something as beautiful as the Statue of David, he mused, "I did not create anything, I simply chipped away all that was not David."
Artist have different ways of arriving at their life's purpose.  Mark Twain once wrote, "the two most important days in your life are the day you were born, and the day you figure out why." My best guess is that these folks know both days well. It seems that all artists are alike in many ways, yet unique in their own way. Some, like Van Gogh, illuminate their art with a slow burning fire.  Others awaken to it like a lightening bolt or an epiphany in a single moment: Virginia Woolf found hers in a garden, Shakespeare on the streets of the city, and Michelangelo in the end of his work.
The atmosphere on the Sculpture Saint John work site is a virtual whirlwind of constant activity. It is particularly neat to have the presence of Theodore Too keeping a watchful eye on the artists as well as the visitors. The International Sculpture Symposium hosted by Sculpture Saint John is the largest arts and culture event held in New Brunswick.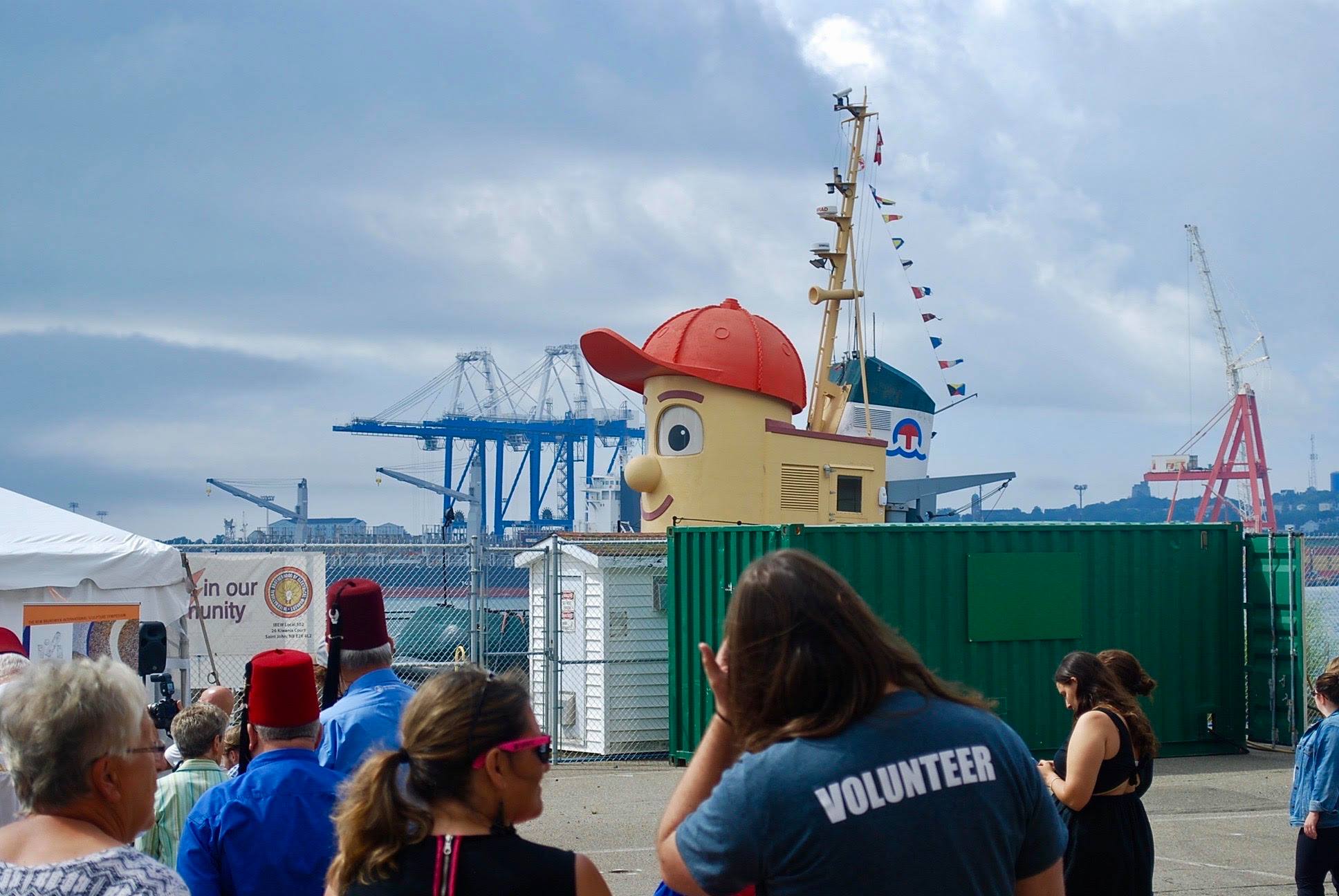 One of the wonderful elements (weather notwithstanding) of the Sculpture Saint John Symposium, is the overwhelming sense of "community" that arises in being on the site and understanding the nature of the direction each artist has undertaken. The Community Partnership is the cornerstone of Sculpture Saint John's mission. Each of the stones are majestically worked on to create a piece that fits the model of what the specific community is looking for in their sculpture. Sculpture Saint John under the leadership of Diana Alexander and her staff realize that it is not only an arts & culture event but also an educational opportunity. The intern program, which focuses on  emerging artist provides a platform for sustainable education and development in the region, under the direction of the experienced international sculptors.
The sense of community between the artists, the civic pride, the volunteers and the visitors is best captured by local poet laureate and Saint John resident Clyde. A. Wray, who was gracious in allowing me to share his words. "The Collective" captures the essence of Sculpture Saint John, the artists & interns, their works in progress and the public art and culture that will be shared for generations to come. Clyde has even managed to include the artists by name so you will know who to look out for.
Sculpture Saint John/2018
( The Collective )
There is The Collective
one mind set
the collective hysteria to only move forward
with one thought
to get to the finish line
to give their stones life
The Collective: Patrick
Rafail
Oliver
Songul
Phil
Domenico
James
Anna Teresa
sculptors all
The Collective is struck mute
all mesmerized by their stones
all breathing together as if:
the stones
the sculptors
The Collective are all one..
The Collective
not worried about air quality
humidity or the millions upon millions
of crushed particles of dust
as they hammer and chisel
they will polish their stones until they glisten..
The Collective
only separated by a few working feet
sculpting under tents
out of the rays of the blistering sun
The Collective
woven together with one mutual interest
they all have six weeks
to complete their sculptures
then the stones will live for another few centuries:
in hamlets
villages
towns
and in cities of New Brunswick
Clyde A. Wray
August 17, 2018
All Rights Reserved
There is no longer a need to wait…Get down to the waterfront and look for Theodore Too's watchful eye to guide you to the entrance. Treat yourself to one of the many wonders that Saint John has to offer. Follow the trail beginning here http://sculpturesaintjohn.com/  Sign up for the Sculpture Saint John Mobile App and find yourself immersed in a whole new word of creativity and vision. Keep in mind, that there are: